All the electrical wiring throughout a house meets here, leaving plenty of room for unwanted air to flow right on through into a home's living spaces. And in the event of a fire, that air flow can help fuel the spread of smoke and flames. You can help impede the spread of smoke and flames with GREAT STUFF™ Fireblock and GREAT STUFF PRO™ Gaps & Cracks. NEVER APPLY PRODUCT INSIDE THE ELECTRICAL PANEL.

RECOMMENDED GREAT STUFF™/GREAT STUFF PRO™ PRODUCTS FOR SEALING AROUND MAIN ELECTRICAL PANEL
SOLUTIONS FOR THE HOMEOWNER
GREAT STUFF™
FIREBLOCK
Insulating Foam Sealant
Helps impede the spread of fire and smoke through service penetrations. Seals service penetrations between floors, electrical runs through wall studs, pipe, cable and duct penetrations. Meets ASTM E84, ASTM E814 (modified) and UL 1715.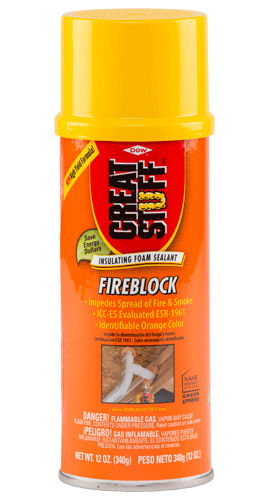 SOLUTIONS FOR THE CONTRACTOR
GREAT STUFF PRO™

GAPS & CRACKS
Insulating Foam Sealant
Use in gaps and cracks up to 3". Bonds to wood, metal, masonry, glass and most plastics. It's recognized as a fire blocking sealant. Easily recognizable by its orange color.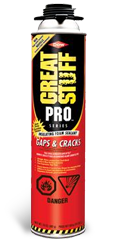 Need a bit more convincing about air sealing?
Ready to go shopping?
Find out more about GREAT STUFF PRO™ Gasket for your building needs.