THE WAY OF THE GUN OR THE EASY-TO-
USE SMART DISPENSER™?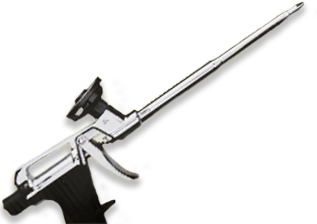 The SMART DISPENSER™ for DIYers.
Snap on our new SMART DISPENSER™ nozzle and start spraying GREAT STUFF™ into any gap, crack or opening. Suddenly, you're an expert at this.
The gun for pros.
All GREAT STUFF PRO™ products use a dispensing gun for speed and precision - a small investment to save time and minimize waste.
WHAT GREAT STUFF™ PROJECT IS CALLING YOU?
Ready to go shopping?
See where you can buy GREAT STUFF™, GREAT STUFF PRO™, and FROTH-PAK™ in your neighborhood.