PROS, GET YOUR GUNS. THE GREAT STUFF PRO™ DISPENSING GUNS.
All of our PRO Series products are applied with a GREAT STUFF PRO™ foam dispensing gun. It's a small investment to get more precise placement, variable bead sizing and minimal waste. Our dispensing guns have a trigger, metal chamber and various nozzles to send foam right where you want it.
GREAT STUFF PRO™ products for the season.
We have formulations to tackle any air sealing project. Here are a few to consider this season.
GREAT STUFF PRO™
GAPS & CRACKS
Insulating Foam Sealant
Use in gaps and cracks up to 3". Bonds to wood, metal, masonry, glass and most plastics. It's recognized as a fire blocking sealant. Easily recognizable by its orange color.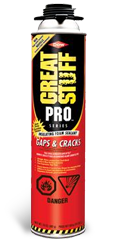 GREAT STUFF PRO™

WALL & FLOOR
Insulating Foam Sealant
Provides a fast-grab tack and long-term bond to lumber, plywood, masonry, drywall, concrete and more. Also features an all-weather formulation that offers freeze-thaw stability.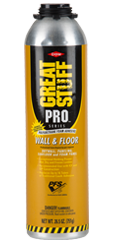 GREAT STUFF PRO™

WINDOW DOOR
Insulating Foam Sealant
A low-pressure formulation for sealing between window and door frames and their rough openings. When applied properly, won't bend or bow framework.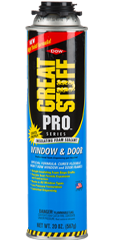 GREAT STUFF PRO™

GASKET
Insulating Foam Sealant
A flexible, compressible gasket foam sealant that delivers air-sealing performance between house framing and drywall. Is water-based for easy clean-up.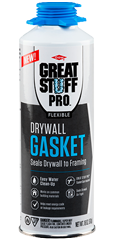 WHAT GREAT STUFF PRO™ PROJECTS ARE ON YOUR LIST?
FROTH-PAK™ Foam Sealant
Reporting for heavy duty air sealing
When gaps are too large for our GREAT STUFF PRO™ Series, it's time to bring in the heavy artillery. Low-pressure FROTH-PAK™ Insulating Foam Sealant.
FOR PROFESSIONAL USE ONLY
Two component low-pressure spray polyurethane foam sealant with a quick cure time

Primarily used to fill gaps greater than 2" and less than 4" wide

Installs easily

One-hour re-entry versus 24 hour with drum foam (when proper ventilation is employed)

Includes our industry-leading nozzle system

Available in self-contained portable kits – no gas cylinder or electricity required.
Ready to go shopping?
Find out more about GREAT STUFF PRO™ Gasket for your building needs.