THE GAP AND CRACK ATTACKER
All those openings in your home are like tunnels for heat and air conditioning to leak out and any unwanted air to sneak it.
Our GREAT STUFF™ Gaps & Cracks Insulating Foam Sealant attacks air leaks with a vengeance:
It sprays right into gaps and cracks up to 1" (25mm) in diameter.
It expands to fill the shape of the gaps.
It forms a long-lasting, airtight, water-resistant seal.
It helps keep insects, moisture/condensation and allergens out.
Adheres to wood, metal, masonry, glass and most plastics.
You can use it indoors or outdoors.
And it's easy to finish up:
It dries rigid and is tack-free within 5-15 minutes.
You can scrape away any excess after 8 hours.
Foam elasticity allows movement and shifting within a structure.
It's cream colored so you can see where it is.
You can paint, stain or sand it.
It's UL classified.
* 70 ± 5°F and 50 ± 5 % RH, 1 inch bead diameter, 6 inch length.
* Trims in one hour.
Cure rate is dependent on temperature, humidity, and size of foam bead.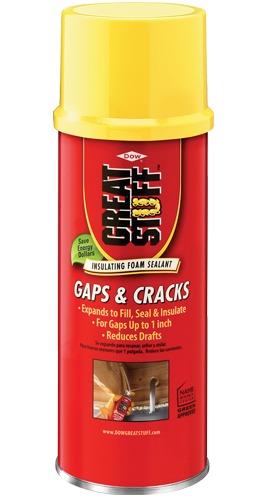 DOWN TO THE DETAILS OF GREAT STUFF™ GAPS & CRACKS
HOW TO USE GREAT STUFF™ GAPS & CRACKS

                                 Read all instructions and safe handling information before you start. GREAT STUFF™ product should not to be used for filling closed cavities or voids                                                                 such  as behind walls and under tub surrounds.
GREAT STUFF™ INSULATING FOAM SEALANTS SAFE HANDLING
For warnings and precautions, disposal information and more, download GREAT STUFF™ Consumer Safety Information or view our safe handling videos.
WHAT GREAT STUFF PRO™ PROJECTS ARE ON YOUR LIST?
Ready to go shopping?
Find out more about GREAT STUFF PRO™ Gasket for your building needs.