THE FISH-FRIENDLY GAP FILLER
This polyurethane-based foam filler, sealant and adhesive:
Is black in color to blend in with stones and shadows.
Bonds without mortar.
Helps direct water over, not under, rocks.
Creates a water-shedding bond for stone, rock, masonry, concrete and other building materials.
Safe for ornamental fish and plants.
Lasts for years in wet conditions.
It's easy to work with because it:
All-direction dispensing.
Can be applied to damp and dry surfaces.
Cures in 8 hours. 1
Is UL Classified.
170 ± 5°F and 50 ± 5 % RH, 1 inch bead diameter, 6 inch length. Cure rate is dependent on temperature, humidity, and size of foam bead.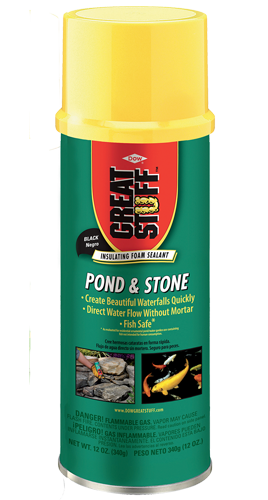 DOWN TO THE DETAILS OF GREAT STUFF™ POND & STONE
HOW TO USE GREAT STUFF™ POND & STONE
                                 Read all instructions and safe handling information before you start. GREAT STUFF™ product should not to be used for filling closed cavities or voids                                                                    such as behind walls and under tub surrounds.
GREAT STUFF™ INSULATING FOAM SEALANTS SAFE HANDLING
For warnings and precautions, disposal information and more, download GREAT STUFF™ Consumer Safety Information or view our safe handling videos.
Ready to go shopping?
Find out more about GREAT STUFF PRO™ Gasket for your building needs.