THE GASKET GURU
A gasket that's durable and flexible? Just the product you need to form an airtight seal between framing lumber and drywall.
This water-based, one-component sealant foam:
Improves air sealing by creating a gasket between drywall and frame.
Is applied to face of top plate, bottom plate and around all rough openings.
Compresses when cured preventing bowing issues with drywall board. A 1/2" bead can easily be compressed to < 1/16" by the force of screwing on drywall.
Withstands scrapping and rubbing when drywall is slid up the wall and put in place. Is tolerant of abrasive contact and maintains its seal.
Helps meet stricter energy codes.
Does not expand like traditional, one-component, polyurethane foam sealants.
Air cures in 2 to 24 hours, depending on humidity. Dries fastest at low humidity.
Creates a more stable indoor temperature, lowering energy bills.
Reduces moisture, mold, pollutants and allergens that creep through small openings.
Minimizes waste. Reusable for up to 90 days when left attached to GREAT STUFF PRO™ Dispensing Gun with the blue handle. Shake vigorously for 60 seconds before use.
It's the first water-based, polyurethane foam sealant:
Non-cured spills and drips means easy water clean-up
Low VOC
Easy gun clean-out with standard garden hose
Availability:
U.S. only
Available in 18-oz. cans
DOWN TO THE DETAILS OF
GREAT STUFF PRO™ GASKET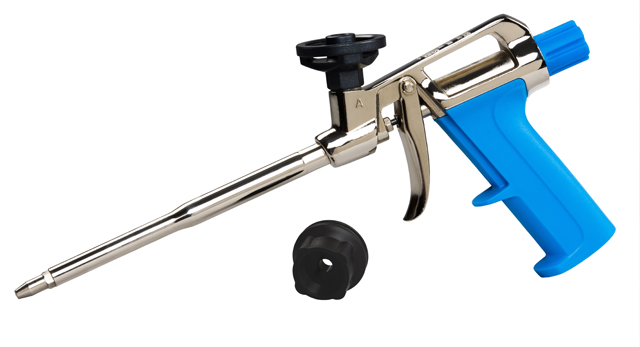 A unique product needs a special dispensing gun.
Designed specifically for GREAT STUFF PRO™ Gasket, the blue-handled dispensing gun allows for precise application of the foam. It is restartable/reusable, and can be easily cleaned using a garden hose and the included cleanout adapter.
Note: The traditional polyurethane GREAT STUFF PRO™ Dispensing Gun is not adequate for dispensing this latex-based technology. These guns are not interchangeable.
HOW TO USE GREAT STUFF PRO™ Gasket
Read all instructions and safe handling information before you start. Not to be used for filling closed cavities or voids such as behind walls and under tub surrounds.
GREAT STUFF™ INSULATING FOAM
SEALANTS SAFE HANDLING
For warnings and precautions, disposal information and more, download GREAT STUFF™ Consumer Safety Information or view our safe handling videos.
Ready to go shopping?
See where you can buy GREAT STUFF™ and GREAT STUFF PRO™ in your neighborhood.