THE BUG AND PEST EVICTOR
Bugs and critters don't have the right to live in any home rent-free. Send them away with GREAT STUFF PRO™ Pestblock, created to block points of entry caused by gaps and cracks.
This insulating foam sealant:
Seals openings up to 3" (75 mm) in size.
Forms a long-lasting, water-resistant and airtight seal.
Contains no pesticides.
Bonds with most building materials.
Goes on with a foam-dispensing gun for greater precision and access to hard to-reach places.
Comes in a can that's reusable for up to 30 days, minimizing waste (cans of straw-applied Pestblock can be used one time only).
Also keeps good air in and unwanted air out for greater energy efficiency and lower utility bills.
It's easy to use because it's:
Tack-free in 3-10 minutes.1
Paintable, stainable and sandable.
Easy to clean up uncured foam with GREAT STUFF PRO™ Gun Cleaner.
UL Classified.
CCMC 13074-L
1 70 ± 5°F and 50 ± 5 % RH, 1 inch bead diameter, 6 inch length. Cure rate is dependent on temperature, humidity, and size of foam bead.
DOWN TO THE DETAILS OF GREAT STUFF PRO™ PESTBLOCK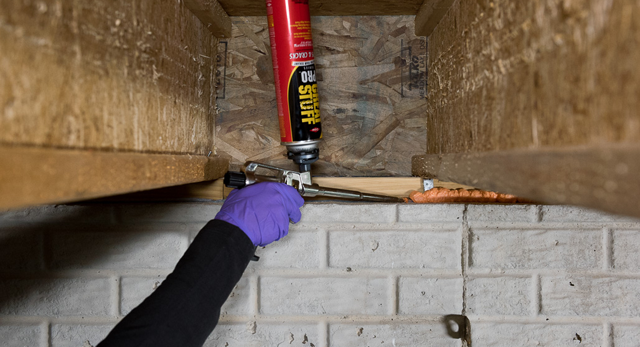 Select your GREAT STUFF PRO™ dispensing gun.
We offer a choice of four dispensing guns for applying GREAT STUFF PRO™ products for bead size control and precise placement.
HOW TO USE GREAT STUFF PRO™ PESTBLOCK
Read all instructions and safe handling information before you start. GREAT STUFF™ productz should not to be used for filling closed cavities or voids such as behind walls and under tub surrounds.
GREAT STUFF™ INSULATING FOAM SEALANTS SAFE HANDLING
For warnings and precautions, disposal information and more, download GREAT STUFF™ Consumer Safety Information or view our safe handling videos.
WHAT GREAT STUFF PRO™ PROJECTS ARE ON YOUR LIST?
Ready to go shopping?
Find out more about GREAT STUFF PRO™ Gasket for your building needs.