THE OVERACHIEVING ADHESIVE
When you need a heavy-duty adhesive, premium-grade GREAT STUFF PRO™ Wall & Floor is up to the task. It's a single-component, moisture-cured foam adhesive.
This low-pressure, flexible polyurethane foam:
Seals subfloors, drywall, paneling, foam panels and most construction materials.
Provides a fast-grab tack and long-term bond to lumber, plywood, particle board, masonry, drywall, concrete and foam panels.
Works on dry, damp and frozen lumber.
Goes on with a foam-dispensing gun for greater precision and access to hard-to-reach places.
Comes in a can that's reusable for up to 30 days, minimizing waste.
Is available in 26.5-oz. (751 g) cans.
Not available for sale in California's South Coast Air Quality Management District.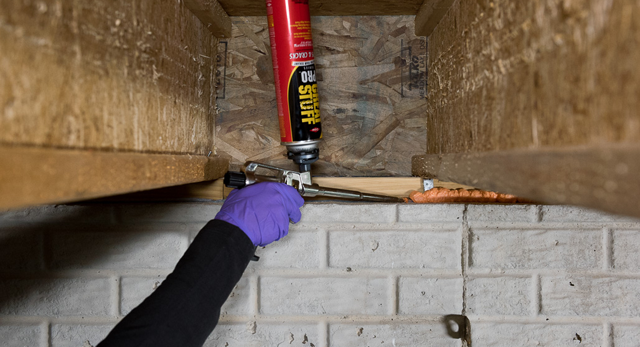 Select your GREAT STUFF PRO™
dispensing gun.
We offer a choice of four dispensing guns for applying GREAT STUFF PRO™ products for bead size control and precise placement.
HOW TO USE GREAT STUFF PRO™ WALL & FLOOR

Read all instructions and safe handling information before you start. GREAT STUFF™ products should not to be used for filling closed cavities or voids such as behind walls and under tub surrounds.
GREAT STUFF™ INSULATING FOAM SEALANTS SAFE HANDLING
For warnings and precautions, disposal information and more, download GREAT STUFF™ Consumer Safety Information or view our safe handling videos.
Ready to go shopping?
See where you can buy GREAT STUFF™ and GREAT STUFF PRO™ in your neighborhood.