THE FRAME FILLER
GREAT STUFF PRO™ Window & Door is specifically formulated to seal gaps between window and door frames and their rough openings. It works hard without being hard on surfaces.
This low-pressure, flexible polyurethane foam sealant:
Is applied with a foam-dispensing gun for greater precision and access to hard-to-reach places.
Comes in a can that's reusable for up to 30 days, minimizing waste
Expands just enough to seal gaps without bowing or bending the frame, when applied appropriately.
Bonds to vinyl, wood and metal frames.
Offers greater insulation value than chinked fiberglass or caulk
Forms a durable, airtight and water-resistant seal that can lower energy bills.
Expands and contracts to allow for various weather conditions.
16-18 windows (20 oz gun version)*
Repels and deflects water.
It's easy to use because it's:
Soft, pliable , easy to stuff back into gap without trimming
Tack-free in 3-10 minutes. 1
Ready to trim within 60 minutes.
Flexible after it cures.
Paintable, stainable and sandable.
Yellow-colored so you can see it.
UL Classified.
Available in 20-oz. straw and 20-oz. gun applied cans.
170 ± 5 °F and 50 ± 5 %RH, 1 inch bead diameter, 6 inch length. Cure rate is dependent on temperature, humidity, and size of foam bead.
*U.S. ONLY - Based on Average-sized windows (36" x 60" , gap 3/8" wide and 1" deep)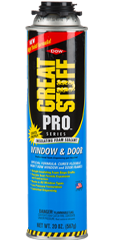 DOWN TO THE DETAILS OF GREAT STUFF PRO™ WINDOW & DOOR INSULATING FOAM
GREAT STUFF PRO™ WINDOW & DOOR BUILDING CODE COMPLIANCE
ICC-ES Legacy NER-645. Conforms to AAMA 812-04 pressure-build @ 0.08 psi, ABAA standards for air leakage per ASTM 283,ASTM E331, ASTM E547,
ASTM C1620. UL Classified as a sealant. See CCMC 13074-R.
HOW TO USE GREAT STUFF™ WINDOW & DOOR
Read all instructions and safe handling information before you start. GREAT STUFF™ products should not to be used for filling closed cavities or voids such as behind walls and under tub surrounds.
GREAT STUFF™ INSULATING FOAM SEALANTS SAFE HANDLING
For warnings and precautions, disposal information and more, download GREAT STUFF™ Consumer Safety Information or view our safe handling videos.
WHAT PROJECT ARE YOU READY TO START?
GREAT STUFF PRO™ Window & Door works in multiple applications.

Ready to go shopping?
See where you can buy GREAT STUFF™ and GREAT STUFF PRO™ in your neighborhood.